You are watching a preview. Log in or join now to watch unlimited scenes in Full HD 1080P.
Scene Info
Steve O'Donnell is understandably cranky as he waits at work for his always-late boyfriend (Kyle Brandon) to arrive with his lunch. When Brandon finally arrives he's quick to make it up to him, pulling him in for a sweet kiss that escalates into some hot naked play. As the clothes come off, the two men kiss passionately, working themselves into a sensual frenzy. O'Donnell pushes Brandon back onto his desk, strips him to his jockstrap, and bends over so he can tease Brandon's cock through the fabric. He takes Brandon's cock out and stuffs it into his mouth while he strokes his own big boner. He jacks their cocks together and toys with Brandon's nipples before he resumes sucking cock again. What he really wants is Brandon's ass and he gets it, flipping Brandon over onto his stomach so he can slide his tongue up inside his sweaty butthole. Next the two begin to fuck as O'Donnell mounts his fat cock into Brandon's ass and begins pumping. Desperate to have his hole punched deeper, Brandon announces 'I've got a treat for you,' and pulls a thick rubber dong out of his lunch bag. He bends over the desk so O'Donnell can get a birds-eye view of his hole before burying the dildo right down his hatch. 'You like that, dontcha?' O'Donnell croons as he forces the dildo into Brandon's can, jerking himself off with his free hand until he shoots a hot load all over his own balls. He then helps Brandon get off by sliding his finger up Brandon's hole while he jerks off.
Related Movies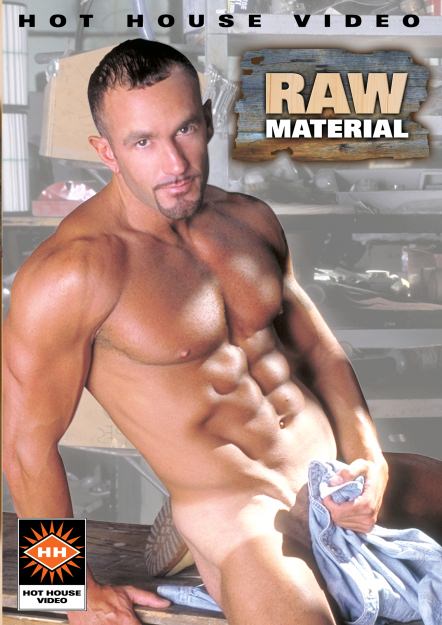 Raw Material
: 01:14:32
: 11757
Updated on : 01-01-2007
Categories : Anal Sex, Ass Shot, Bondage, Buttplay, Cumshot, Group Sex, Hairy, Jockstrap, Kissing, Oral Sex
Starring : Adriano Marquez, Hunter Scott, Kurt Houston, Kyle Brandon, Mark Baxter, Rick Mathews, Sean Dickson, Steve O'Donnell, Todd Gibbs
Hot House Exclusive Todd Gibbs leads a cast of hard working men who do whatever it takes to get the job done in Raw Material, director Steven Scarborough's tribute to the working stiff. From rugged lumberjacks sporting wood under the blazing sun to horned-up grease monkeys who relieve some stress on their afternoon break, it's all in a day's work in this classic, now digitally remastered!