You are watching a preview. Log in or join now to watch unlimited scenes in Full HD 1080P.
Scene Info
It's a hot day in the field for Todd Gibbs and Mark Baxter. Trying to cool down, they begin pouring water on themselves but end up getting even hotter-for each other. They begin some serious face sucking while their cocks rub against each other. Baxter drops to his knees to service Gibbs' veiny tool, a shock of strawberry blonde pubes highlighting the bulging boner. Gibbs turns around and bends over the fender of their truck so Baxter can service his lily-white ass. Baxter gets on his feet and grinds his cock into Gibbs' crack while he kisses and eventually licks his way back down to Todd's moistened hole. Unable to hold back, Todd shoots a juicy load while Baxter rims him who soon follows with a load of his own. The two studs then head over to a rope hanging from a pulley; Mark holds onto the rope and climbs up so that Todd can stick his face right into his tight hole. Gibbs burrows his tongue into Baxter's can before bending him over so he can plow him good. His big thick meat begins to slide in and out of his buddy's hole. Baxter then grabs onto the ropes again, attaches them to a work belt around his mid-section, and hoists himself up so he can repel himself on and off Gibbs' cock. 'Fuck yourself on my cock-' Gibbs barks as Baxter bounces on the big dick with the force of a sledgehammer. Finally he sits down on Gibbs and rides it until a huge rush of cum spurts out, dropping to his knees so that Gibbs can stroke out another load onto his chest.
Related Movies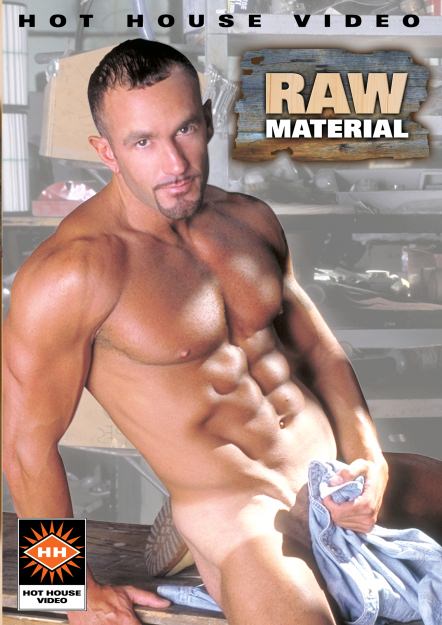 Raw Material
: 01:14:32
: 11761
Updated on : 01-01-2007
Categories : Anal Sex, Ass Shot, Bondage, Buttplay, Cumshot, Group Sex, Hairy, Jockstrap, Kissing, Oral Sex
Starring : Adriano Marquez, Hunter Scott, Kurt Houston, Kyle Brandon, Mark Baxter, Rick Mathews, Sean Dickson, Steve O'Donnell, Todd Gibbs
Hot House Exclusive Todd Gibbs leads a cast of hard working men who do whatever it takes to get the job done in Raw Material, director Steven Scarborough's tribute to the working stiff. From rugged lumberjacks sporting wood under the blazing sun to horned-up grease monkeys who relieve some stress on their afternoon break, it's all in a day's work in this classic, now digitally remastered!