Bathhouse Ballers, Scene #01
You are watching a preview. Log in or join now to watch unlimited scenes in Full HD 1080P.
Scene Info
Brendan Phillips hits the communal bathhouse showers to get cleaned up. Micah Brandt is already there, stroking himself under the water. Turning around, Brendan shows Micah a flash of his tight, pink asshole. With a devilish grin, Micah pulls Brendan close for a deep, passionate kiss. Getting down on his knees, Brendan gets a throat full of Micah's hard, thick cock. Bending over a bench, Brendan shows off his tasty ass to Micah, who dives in tongue first for a spit-fueled rim job. Putting his legs in the air, Brendan strokes his cock as Micah eats his ass, depositing plenty of thick spit. Sliding his cock into Brendan's ass, Micah delivers a pounding fuck that stretches Brendan's hole. Doggy style gives Micah even more power to his intense thrusting. With Brendan's tight ass on his cock, Micah goes over the edge and shoots a huge load onto Brendan's ass cheeks. Micah uses his cock to smear his load around on Brendan's ass, then kneels down to get a taste of Brendan's load. Micah's finger in his ass, Brendan lets loose with his hot, white load, which Micah laps up eagerly. Running his tongue along Brendan's body, Micah works his way upwards until their lips meet and they taste Brendan's cum together.
Related Movies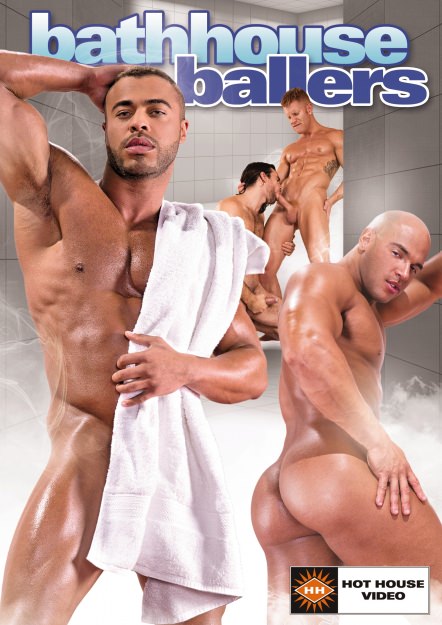 Bathhouse Ballers
: 01:36:57
: 5548
Updated on : 02-23-2017
Categories : Anal Sex, Ass Shot, Big Cock, Black Men, Buttplay, Cumshot, Interracial, Kissing, Male Masturbation, Muscle Men
Starring : Austin Wolf, Brendan Phillips, Johnny V, Micah Brandt, Scott Riley, Sean Zevran, Woody Fox
Around every corner there is another hot stud to hook up with anonymously in 'Bathhouse Ballers'. Take a trip cruising through this steamy sex spa and find a baller to hit it with. Director Nick Foxx takes you into the sauna and the communal showers with seven of the sexiest muscle men in the world! Brendan Phillips shows off his ass to Micah Brandt in the communal showers, and Micah uses his tongue, his fingers, and his cock to thoroughly explore Brendan's hole. Giant muscle man Austin Wolf gives Scott Riley a peep show in the sauna, then leads him into the shower room for a dominating fuck session. Johnny V drips precum all over the sauna as he sucks Woody Fox's massive cock and delights in an epic anal reaming. Micah Brandt returns to the sauna with beefy hunk Sean Zevran for a flip flop session that culminates in two epic cumshots. When you see how sexy these 'Bathhouse Ballers' are, you'll want to head on down and get serviced right.