Scene Info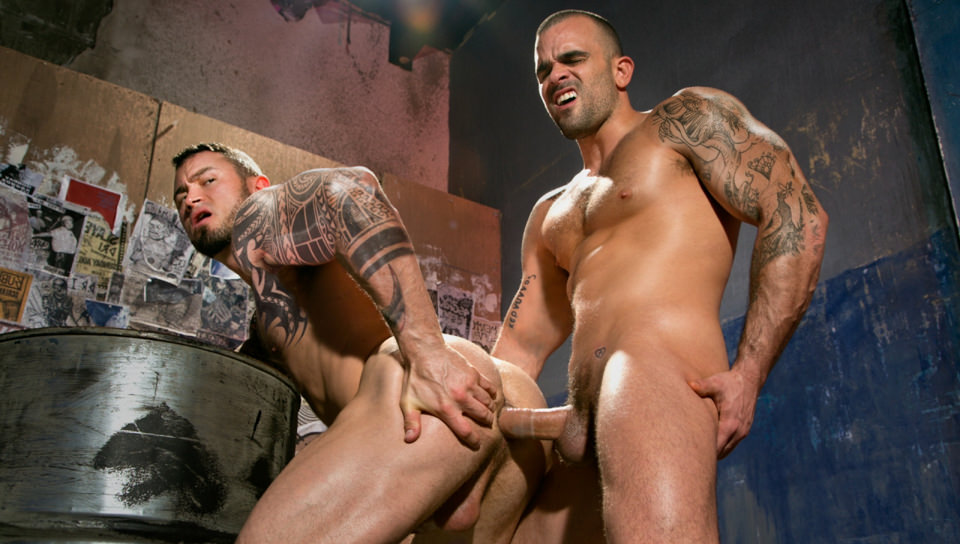 Under My Skin 2, Scene #03
: 06-27-2016

|

: 24:30 min

|

: 15

|

Views : 976
Hot House Member Exclusives
Damien Crosse and Seven Dixon have staked out their cruising territory in a dim passageway. Damien is splayed out on a palette, no shirt, jeans dropped to his knees. His biceps flex as he strokes his fat boner, dripping precum onto his abs. Seven leans against a doorway, his motorcycle parked nearby. The muscles of his massive torso glint with blue light. Unable to resist any longer, Seven crosses over to Damien and sucks his hefty cock. Damien snarls as he fucks Seven's face. Intoxicated by pheromones and man smells, Seven licks Damien's pits, collecting sweat and scent with his lips. They kiss, and Damien tastes himself on Seven's tongue. No longer guarding his intentions, Seven lies on his back and offers his hairy hole to Damien's thick, uncut dick. They fuck like beasts; their bodies flex and intertwine as their grunts and moans fill the alley. When they climax, Damien shoots a torrent of cum in Seven's mouth, and Seven sprays his load across the alley.
Scene Info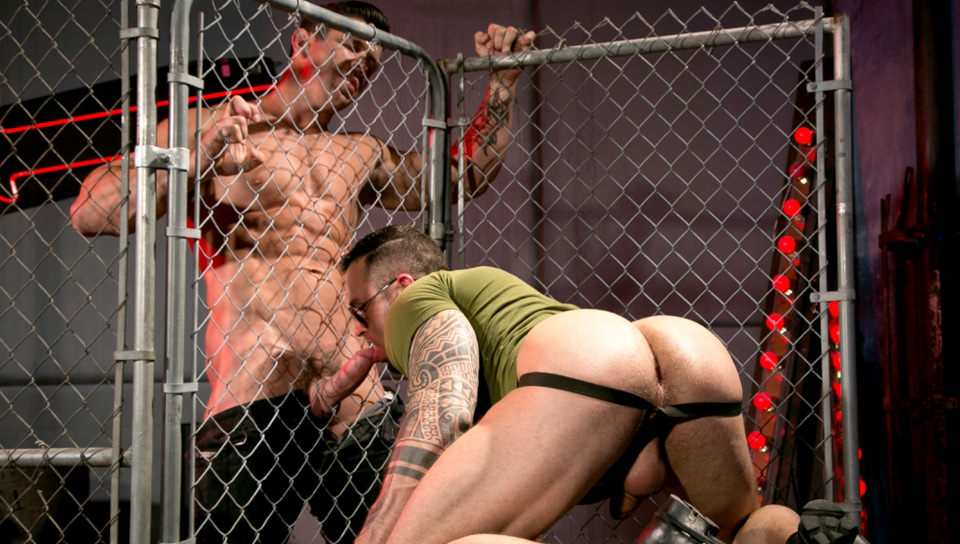 Under My Skin - Part 1, Scene #03
: 11-16-2015

|

: 20:21 min

|

: 17

|

Views : 1896
Hot House Member Exclusives
Seven Dixon is cruising for trouble. He paces the alley in a black jockstrap and a tight t-shirt that he pulls up to expose his furry washboard abs, and his neck is inked with a numeral 7. Trenton Ducati watches. They face off like animals in heat, daring the other to make the first move. Seven wants it bad and slaps his ass in an invitation for Trenton to come and take it. The two make contact; Seven crawls on his knees to suck Trenton's hard on. Now that he's warmed up, Trenton comes at Seven with his hands, lips, tongue, teeth, and nose, serving up a blazingly hot blow job and rim job. Finally Seven gets his ass filled the way he wants it; his muscular hole is a tight sheath gripping Trenton's cock. The pace quickens and the depth increases, sweat covers every inch of inked skin. Their hedonistic energy reaches a fever pitch and Seven can't help shooting his load. Trenton feeds Seven his own load without missing a stroke. Finally Trenton pulls out and smothers Seven's cock with his own manseed, leaving it dripping like an icicle in hell.
Scene Info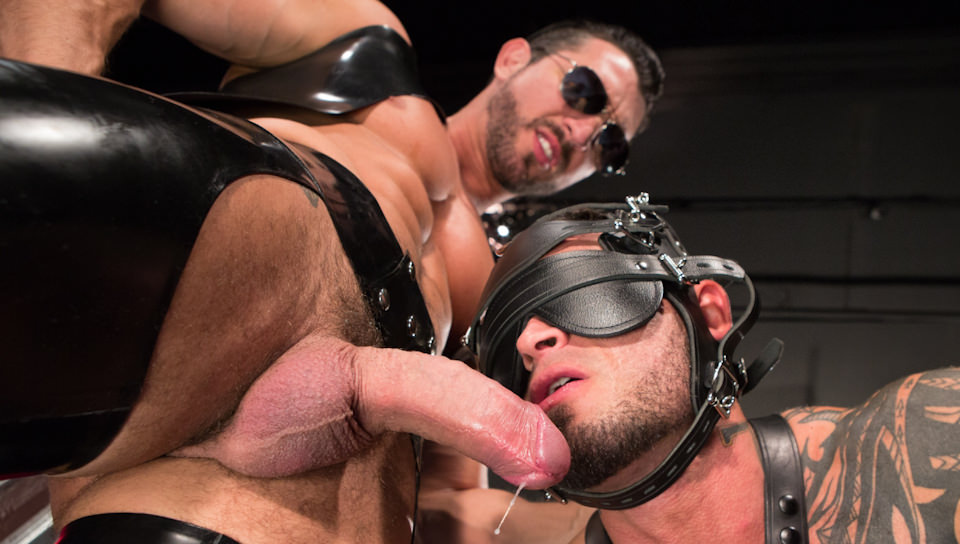 Control Room, Scene #02
: 05-05-2014

|

: 19:33 min

|

: 15

|

Views : 4571
Hot House Video
It takes a bad ass to break a bad ass. That's why when Seven Dixon came to the Control Room for some pig training we called in Jimmy Durano, a muscular Latino top knows how to make a man submit. Shackled and blindfolded, Dixon kneels in a prone position, completely blind to what awaits. Durano enters wielding a heavy steel fuck-rod, orders Dixon to spit on it, and shoves the fat end directly in to the helpless bottom's hole. The twisted top stretches Dixon's butthole then gets on his knees to eat out the pink meaty center. Durano rims the muscular ass then stands up and orders Dixon to suck his fat uncut cock. He blindly follows order only to have Durano grab his head and fuck his face until Dixon gags on the giant rock-hard tool. In a final act of dominance Durano mounts Dixon and shoves his cock deep in the stud's ass. Dixon finally succumbs to the training by begging Durano to pound him harder until he shoots his load. Durano feeds Dixon his own cum then jacks a load all over Dixon's face mask.