Scene Info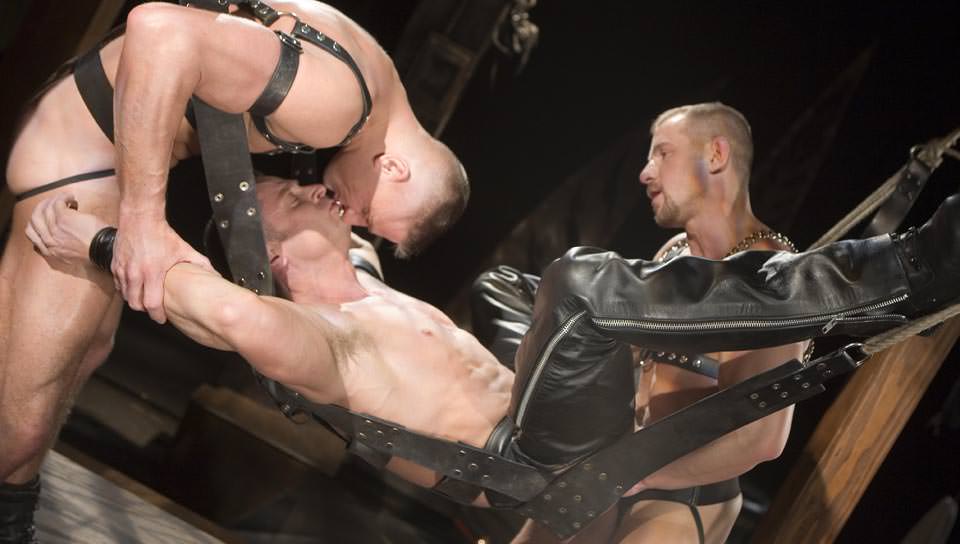 Communion, Scene #06
: 06-11-2007

|

: 16:16 min

|

: 8

|

Views : 6802
Hot House Video
The insatiable threesome from Chapter 5 return, this time ready to take Superstar Josh Weston to new levels of pleasure. For the first time ever on film, Weston opens his hole to the probing fists of his co-stars. Collack begins by working Weston's hole with his fingers, working his way up to his wrist. Weston's cries of ecstasy grow as Collack pushes his forearm deeper into his hole. Collack offers Weston his hand to bite as the emotions and sensations of being fisted surge through Weston's body. Collack pries Weston's hole open so Weston himself can shove his hand inside. What follows is an unbelievable rite of manhood. North once again proves he is the greediest hole in the business as he stands over Collack and Weston, lowering himself onto their fists. At first the two men take turns until North reaches down and entwines both arms together. North's hole opens and takes both hands in at once. Finally Weston returns to his place between the men, riding a dildo as all three men shoot their loads.
Scene Info
Communion, Scene #05
: 06-04-2007

|

: 35:09 min

|

: 9

|

Views : 5128
Hot House Video
Alex Collack, Kent North and Josh Weston stand with their hands shackled overhead and at the mercy of Vinnie D'Angelo. D'Angelo frees Weston and North and puts them at the base of the altar where they are driven to service Collack. North and Weston take turns swallowing Collack's thick, uncut meat. North moves behind Weston for some serious butt play and rimming, driving Weston wild while he sucks off Collack. Now that Weston's hole is primed, North stands up and drives his huge tool deep inside. Collack and North spin Weston around like their own private sex toy, taking turns on his puckered hole. Greedy sex pig North secures the sling and lays back so Collack can suck his hole. Collack stands up and shoves his rod deep into North's spit-covered hole. Weston takes over, fucking North with his formidable cock, pumping him mercilessly while Collack prepares three dildos. Weston and Collack each sit on one and ream North's gaping hole with the third. Eventually Weston is back on his knees and receives a cum bath from his fellow hedonists.
Scene Info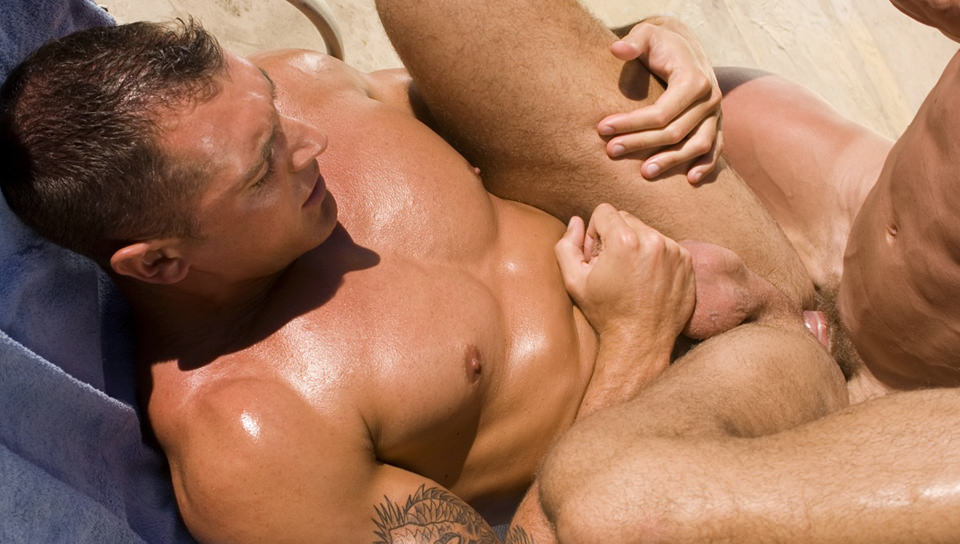 Trunks 3, Scene #04
: 05-28-2007

|

: 22:35 min

|

: 18

|

Views : 2840
Hot House Video
Two chiseled monuments to manhood, Francesco D'Macho and Josh Weston, take turns oiling each other up and rubbing each other down in Scene 4. Josh grinds his olypmic swimmer's ass into Francesco's face who explores the tight puckered hole with his tongue. They take turns worshiping each other's sun-drenched bodies and sucking each other off until Josh throws Francesco down and fucks his ass. Before you can say 'flip-flop' Josh is on his back and Francesco is driving his fat cock into Josh's perfect hole. Both hunks dump big white loads all over Josh's abs.