Scene Info
Get Him Down, Scene #02
: 12-11-2014

|

: 23:02 min

|

: 15

|

Views : 2183
Hot House Video
Dylan Knight, in fluorescent green, and Jimmy Roman are getting their kicks -- on each other! A spirited kickboxing session ends with Dylan pinned on the ground and his ass spread open by Jimmy, who wastes no time getting what he wants! Thick, frothy spit drips from Jimmy's lips into Dylan's open hole, and Jimmy's fingers follow. Dylan's lifts his ass to give Jimmy better access, and his huge, low hanging balls dangle in the air. His blue shorts unable to contain his boner, Jimmy whips it out and starts jerking himself while sucking Dylan's big dick at the same time. Getting on all fours, Dylan returns the oral favor to Jimmy, which quickly escalates to full-force face fucking. Now it's Jimmy's huge nuts that hang heavy and slap against Dylan's chin, and it gets him revved up for fucking! They do it doggy style, and Dylan's eyes roll back into his head with the pleasure of Jimmy's big-dicked onslaught! Their pent-up loads finally get set free when they release together onto Dylan's rock hard abs.
Scene Info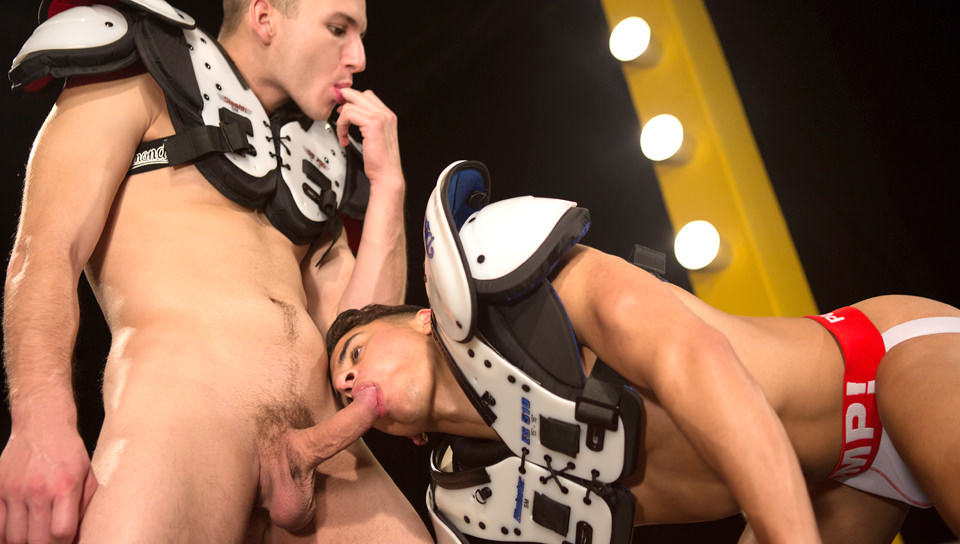 Get Your Ass In Gear! Part 1, Scene #02
: 12-23-2013

|

: 16:04 min

|

: 15

|

Views : 2988
Gym Dudes
Co-captains Armond Rizzo and Jimmy Roman have a lot in common. They're both chiseled, handsome and horny with great big juicy uncut cocks and firm bubble-butts. Their favorite thing about being on the football team happens after practice when they strip down to their jockstraps and shoulder pads and go one-on-one. Armond can't resist sucking Jimmy's rock hard cock, licking the shaft and balls like a pro. Jimmy spins Armand around and shoves his tongue deep in Armond's tight end, getting his hole good and wet to receive his thick cock. Jimmy fucks the young jock like a maniac then pulls out and shoots his load all over Armond's cock and balls. Armond pulls a load out of his own meaty dick and they hit the showers!
Scene Info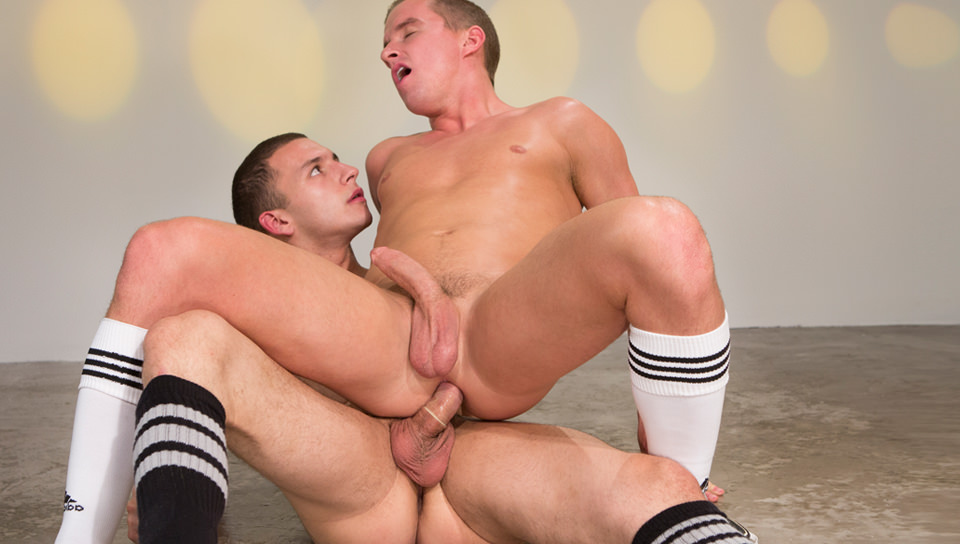 Full Release, Scene #02
: 10-28-2013

|

: 15:27 min

|

: 15

|

Views : 2335
Gym Dudes
A playful scrimmage in the locker room turns into a hot suck-and-fuck session between Jimmy Roman and Tucker Vaughn. Wearing only jockstraps the two young athletes battle it out over a soccer ball until Tucker can't resist getting on his knees to investigate Jimmy's growing bulge. Jimmy shoves his huge uncut cock down his teammate's throat and fucks his face hard. Jimmy reaches around and plays with Tucker's hole, loosening him up for a serious ass-pounding. Jimmy lies on the ground and Tucker hops on, bouncing up and down until Jimmy's almost ready to cum. Jimmy pushes him off his dick and gets him on all fours so he can go deeper, fucking his buddy's ass until they both shoot their loads.