Scene Info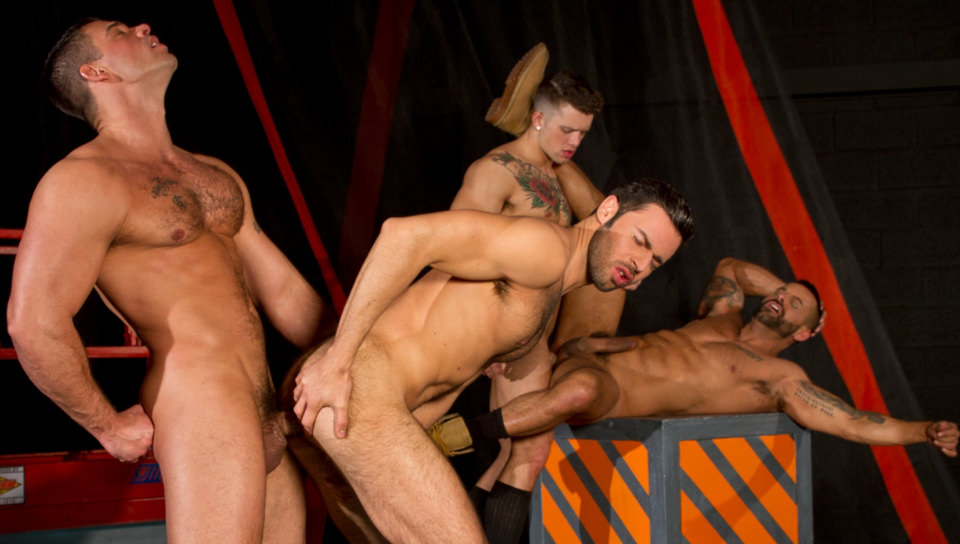 Clusterfuck! 1, Scene #03
: 01-30-2017

|

: 29:46 min

|

: 15

|

Views : 960
Hot House Member Exclusives
Four A-Team, World-Class studs in jock straps fill the air with moans and grunts as they suck each other's cocks. Derek Atlas face-fucks Dario Beck to the point that saliva and cock juice are running down Dario's stubbled chin. David Benjamin orders 'gimme that cock!' at Sebastian Kross, who is all-too happy to feed the demanding Benjamin with his meaty piece. The more aggressive Sebastian serves up his meat to David, the more David seems to like it. Sebastian slams David onto a mat where they can 69 each other's poles and fondle each other's holes. Derek and Dario get in line, Derek jamming his tongue in David's hole while Dario laps up Derek's, and the Clusterfuck! begins. The heat of the group builds and inspires Derek to plow Dario relentlessly, and it moves Sebastian to fill up David's hole with power. Trading things up, Sebastian gives it to versatile Derek while David and Dario swap sloppy blowjobs and make out. Then, as the entire group is edging, Derek gets up in David's ass hard before David gets bathed in everyone's warm and sticky cum.
Scene Info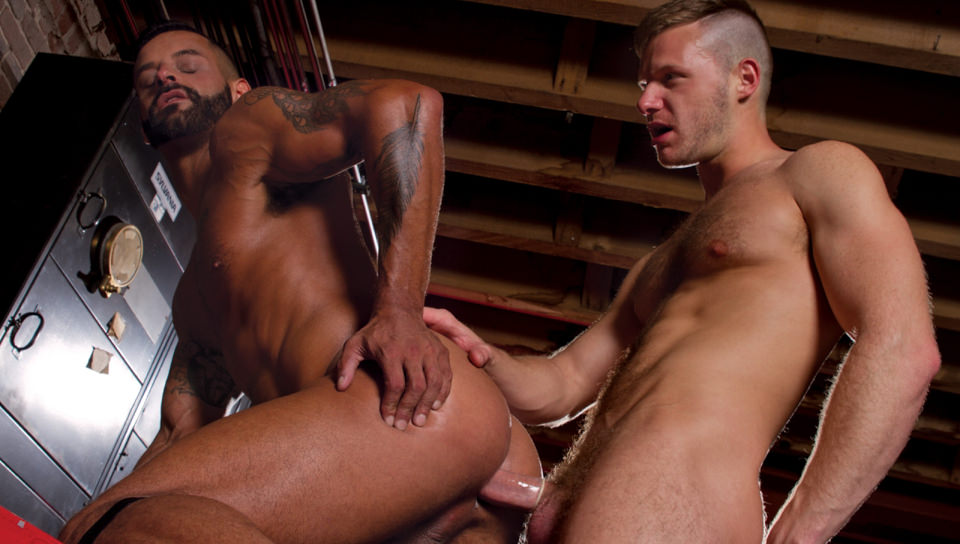 Crave, Scene #03
: 09-14-2015

|

: 30:36 min

|

: 15

|

Views : 1062
Hot House Member Exclusives
Sweat and spit. They're the dominant lubricants when Brian Bonds hooks up with David Benjamin for a bootstrapped ass-fucking. The fur on Brian's torso is a roadmap to his cock, and David's mouth follows the treasure trail. Brian responds with a blow job of deep swallowing and nut-sucking. David orders Brian to get his ass wet and fuck him -- and he gets his wish. Cries of 'Gimme that dick!' intersperse with grunts, groans and the sounds of flesh slamming against flesh. Brian hits David's sweet spot: he wants Brian to fuck it hard, right there. Just when you think David's prostate will explode, he turns the scenario on end and becomes the top. Brian's eyes bulge like he's trying to figure out what just happened as David pile-drives his hole. David waits for Brian's load and captures it in his mouth, then feeds Brian his own.
Scene Info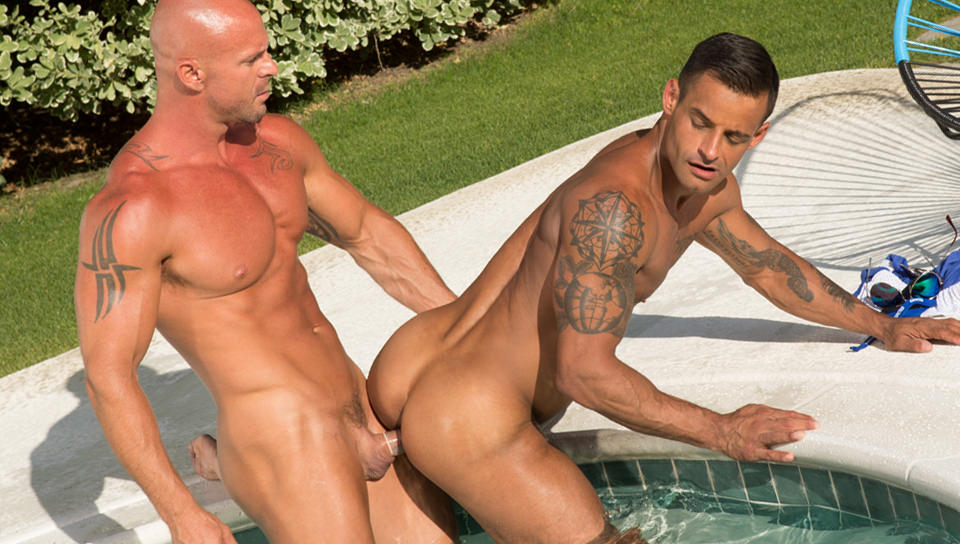 Trunks 8, Scene #03
: 07-28-2014

|

: 17:02 min

|

: 15

|

Views : 2708
Hot House Video
David Benjamin discovers his neighbors having a three-way and goes over to share some hot photos he took with his fuck buddy Mitch Vaughn. Mitch turns his attention from the nasty pictures to David and pulls him into the water so they can worship each other's muscular bodies. David pulls Mitch's hard-on out of his trunks and swallows the rock-hard monster all the way to Vaughn's huge nuts. David's dick needs some attention so he hops out of the pool and fucks Mitch's face hard before bending over and spreading his perfectly smooth ass cheeks for Vaughn's thick cock. Vaughn straddles Benjamin and plows him deep. The two chiseled hunks move over to the grass so David can ride Mitch until he pulls out and showers Benjamin's ass with cum. Ready to explode, Benjamin stands over Vaughn and pulls on his cock until he shoots his load all over Mitch's giant chest and washboard abs.