Scene Info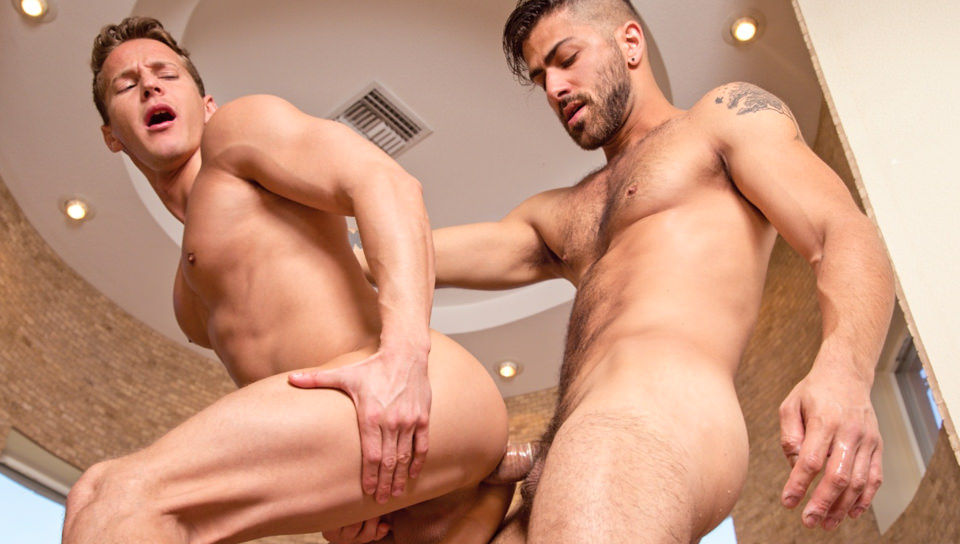 Intensity Part 2, Scene #02
: 08-31-2015

|

: 40:09 min

|

: 15

|

Views : 1031
Hot House Member Exclusives
Emerging from the shower, smooth and chiseled Darius Ferdynand is ready for sex. His muscles are gleaming, his nipples are hard, and his cock twitches with excitement. In the hot tub a few feet away, Adam Ramzi watches like a hawk, massaging an enormous boner that easily attracts Darius' attention. Darius steps onto the ledge of the hot tub and displays his physique like a living statue, waiting for approval from his suitor. Adam welcomes Darius in with an open mouth and gets a vigorous face-fucking. Then they swap positions; drool and spit flow like sweat. Adam teases his tongue along the tip of Darius' cock, across his balls and into his hole. Adam then plunges his huge cock into Darius' ass. When they pause for a kiss, they switch positions, and Adam rides Darius' cock with pleasure. Moaning in anticipation of sexual release, they finally discharge their creamy loads all over each other's chests.
Scene Info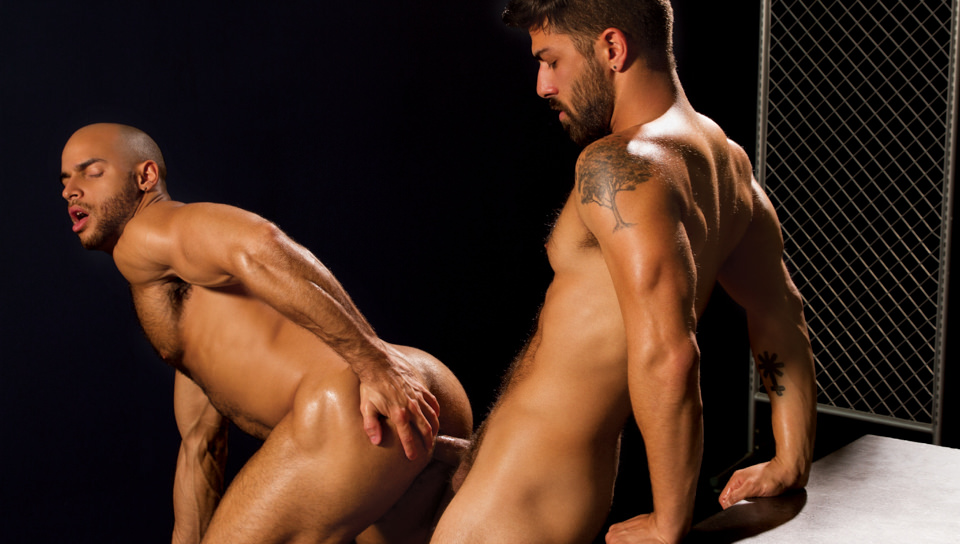 Stunners, Scene #05
: 06-15-2015

|

: 26:56 min

|

: 15

|

Views : 2077
Hot House Member Exclusives
Sean Zevran is a stunning example of man, sexy face, sculpted, hairy and musclebound with an incredible 8-inch cock and ass for days. Adam Ramzi delivers fashion model looks with a lean, toned body, fine ass and sizable cock. After they each put themselves on display, they join together in an intense exchange. Adam takes his mark, gets set and goes straight for Sean's undeniable ass. It begs to be eaten, licked and explored, and Adam expertly claims it. Sean's meaty cock also deserves attention and Adam gives it its due, gulping it down relentlessly. The energy builds as they connect in a wild 69 that has them both gasping for breath and wanting more. With both men standing, Sean bends over to let Adam fuck his fine hole. With feverish gropes and grabs and slams and rams, they are in sync and both have the sweat of sex dripping off them. Without missing a beat the tables turn and Adam find himself on his back taking Sean's huge cock deep inside him. Between the balls slapping his ass and the playful paw slaps and spitting they both share, the connection grows to a ferocious, passionate level that pushes them to the edge and finally over it when Sean jerks a massive load onto Adam's beard and shoots another stream into his mouth. Adam follows with an orgasm that leaves his abs covered in cum.
Scene Info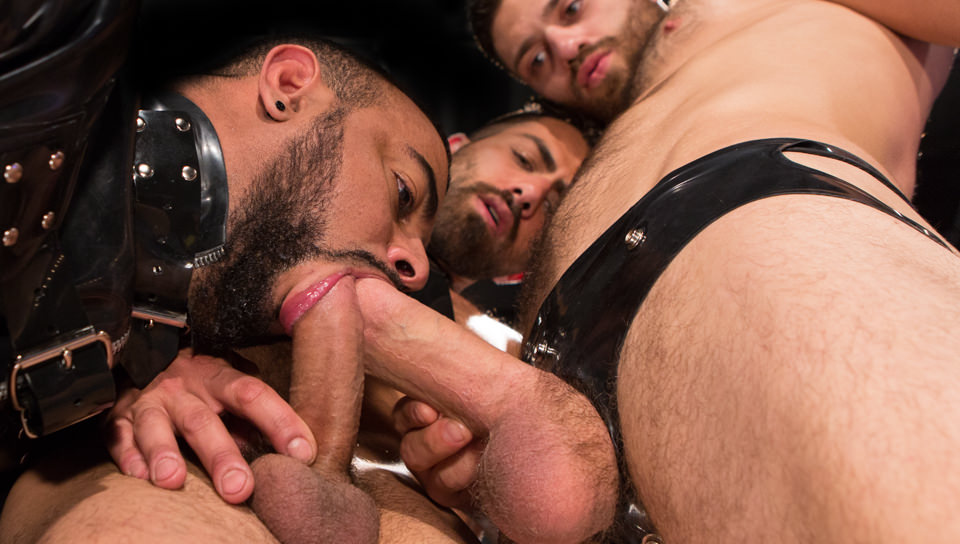 Control Room, Scene #05
: 06-16-2014

|

: 17:58 min

|

: 15

|

Views : 4376
Hot House Video
Tony Orion learns one of the hardest lessons in the Control Room: restraint. The greedy stud lies on his stomach in a full latex straight jacket begging for cock. Adam Ramzi steps up, whips out his perfect prick, and shoves it down Orion's throat. At first Orion seems satisfied but before long he's crying out for more dick. That's when horse-hung Tony Defendi answers the call. The aggressive top literally pummels Orion's face with his massive tree trunk-like cock. Even though he's gagging on the giant meat Tony begs for more so Adam slides his big cock right up alongside Defendi's dick. Even with a mouthful of two thick cocks Orion begs for more so Defendi and Ramzi pull out and leave him with none. To further torment his captive, Defendi spits on Orion and turns his full attention to Ramzi. He eats the stud's ass, sucks his cock, then rams his 10-incher deep in his hole. The fucking continues until Ramzi shoots his load followed by Defendi who pulls out and blows a massive spray of thick white cum all over Ramzi's chiseled abs.