You are watching a preview. Log in or join now to watch unlimited scenes in Full HD 1080P.
Scene Info
Strikingly handsome Ryan Rose is tasty and hungry Pierre Fitch wants the full-course meal. They wear only jock straps, and Ryan's arms are wrapped around Pierre's hot body as if to keep him for his very own, both hands kneading Pierre's bubble butt. They make out under a full moon, as their cocks harden and stretch. Pierre's servant masterful sword-swallowing skills leave Ryan breathless. Grabbing Pierre's thick uncut cock that hangs from his jock, Ryan plays with his foreskin. In an unexpected move, Pierre surprises Ryan by flipping into a handstand and spreading his legs, offering his hole to be lapped. Ryan pigs out at the trough, then sets Pierre upright and sucks him. A standing fuck follows, with Pierre enfolded in Ryan's arms, punctuated by groans and the sound of flesh slapping flesh. Getting acrobatic again, Pierre grabs his toes and uses both hands to spread his legs 180 degrees. Now, Ryan drills him from above. Ryan's hitting Pierre so good that he almost shoots a load in his own mouth, but Ryan wants some of Pierre's uncut dick in his ass, so they separate and reattach, with Ryan getting fucked until he blows his load. Ryan's explosive cum shot drenches his torso and Pierre's jizz is Ryan's final course.
Related Movies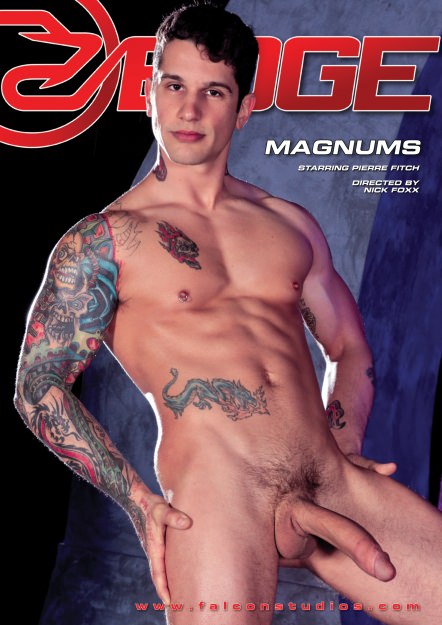 Magnums
: 02:05:50
: 3181
Updated on : 05-22-2017
Categories : Anal Sex, Ass Shot, Big Cock, Buttplay, Cumshot, Hairy, Jockstrap, Kissing, Muscle Men, Oral Sex
Starring : Austin Wolf, Brenner Bolton, Brent Corrigan, Derek Atlas, Pierre Fitch, Ryan Rose, Sebastian Kross
These Superstars are 'Magnums'™! Everything about them is bigger: their cocks, their passion, their spectacular performances. Scorching hot fucking of this intensity has never been witnessed until now. This unbelievably erotic, supernova fuck-fest from director Nick Foxx features some of the biggest and brightest stars to ever appear in gay porn and a meeting of mega-stars that's been a decade in the making. 'Magnums', A-Team Exclusive Brent Corrigan & Pierre Fitch show their massive endowments and fiery performances in the most anticipated pairing of the 21st century â€' a flip fuck for the ages! 'Magnums' continues to inspire awe with shining performances from A-Team Exclusives Ryan Rose, Sebastian Kross, Austin Wolf and Derek Atlas, as well as fan favorite Brenner Bolton. Derek Atlas and Ryan Rose deliver sizzling chemistry in a sweat-filled, gripping flip-fuck. The irresistible, rising star Sebastian Kross collides with Pierre Fitch to deliver an inked-up display of satisfying, muscled fucking. Massive, meaty Austin Wolf and athletic stud Brenner Bolton turn it on high with an explosive exchange. Super flexible, Pierre Fitch showcases his acrobatic skills in a scorching top and bottom performance with out-of-this-world Ryan Rose. With this amount of star power, a duo the world has longed to see and some of the most satisfying sex ever captured on film, these 'Magnums'™ will make your cum shots larger than ever.