You are watching a preview. Log in or join now to watch unlimited scenes in Full HD 1080P.
Scene Info
The swollen jock straps of Derek Atlas and Ryan Rose offer proof that one hard on deserves another. Derek is furry, broad-shouldered and massively muscular. Ryan is smooth with a muscled athletic build and a distinct five o'clock shadow on his angular jawline. Their lips and torsos press together to ensure maximum contact where it counts: tongues, nipples, and cocks. Ryan's face slides down Derek's body to find a hard cock and fat balls released from their pouch and waiting. There's plenty of eye contact, touching, caressing and stroking, and there's something in those kisses, because they keep returning for more. In turns, each stud fucks the other's face and eats his ass until their holes shudder. Spit provides lube for finger entry. Derek is first to flip onto his back and spread his legs, abandoning his hole to a deep drilling. Ryan wants some of what he's giving Derek, so they swap positions, with Ryan giving Derek a lap dance that makes their balls tingle. Separating, they grab their cocks and let their hot juices boil over.
Related Movies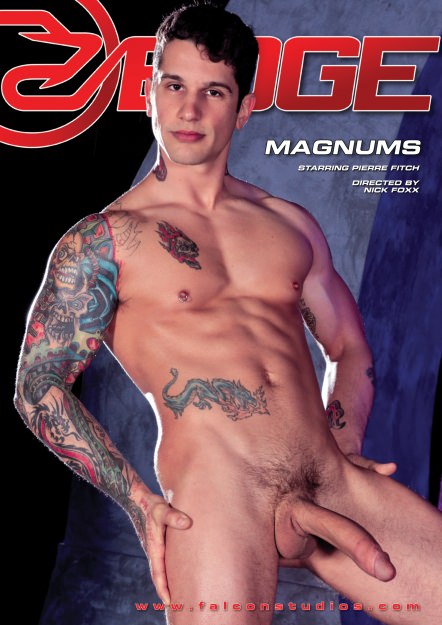 Magnums
: 02:05:50
: 3408
Updated on : 05-22-2017
Categories : Anal Sex, Ass Shot, Big Cock, Buttplay, Cumshot, Hairy, Jockstrap, Kissing, Muscle Men, Oral Sex
Starring : Austin Wolf, Brenner Bolton, Brent Corrigan, Derek Atlas, Pierre Fitch, Ryan Rose, Sebastian Kross
These Superstars are 'Magnums'™! Everything about them is bigger: their cocks, their passion, their spectacular performances. Scorching hot fucking of this intensity has never been witnessed until now. This unbelievably erotic, supernova fuck-fest from director Nick Foxx features some of the biggest and brightest stars to ever appear in gay porn and a meeting of mega-stars that's been a decade in the making. 'Magnums', A-Team Exclusive Brent Corrigan & Pierre Fitch show their massive endowments and fiery performances in the most anticipated pairing of the 21st century â€' a flip fuck for the ages! 'Magnums' continues to inspire awe with shining performances from A-Team Exclusives Ryan Rose, Sebastian Kross, Austin Wolf and Derek Atlas, as well as fan favorite Brenner Bolton. Derek Atlas and Ryan Rose deliver sizzling chemistry in a sweat-filled, gripping flip-fuck. The irresistible, rising star Sebastian Kross collides with Pierre Fitch to deliver an inked-up display of satisfying, muscled fucking. Massive, meaty Austin Wolf and athletic stud Brenner Bolton turn it on high with an explosive exchange. Super flexible, Pierre Fitch showcases his acrobatic skills in a scorching top and bottom performance with out-of-this-world Ryan Rose. With this amount of star power, a duo the world has longed to see and some of the most satisfying sex ever captured on film, these 'Magnums'™ will make your cum shots larger than ever.