Internal Specialists, Scene #05
You are watching a preview. Log in or join now to watch unlimited scenes in Full HD 1080P.
Scene Info
As the doctor leaves for the day, he sternly instructs his assistants Adam Bryant and Jacob Peterson to clean up the examination rooms and get the office ready for tomorrow. When the door closes behind the doctor, Adam and Jacob look at each other mischievously. They know they'll be reprimanded if they don't do their job, but the temptation of the empty office is too much to resist. Without a word, they make their decision: screw work! They want to fuck! Slamming their faces together, they kiss passionately while stripping off their scrubs. Jacob inhales Adam's fat cock all the way down to the base. Adam slaps Jacob's ass and shoves his tongue deep into Jacob's crack. With his boner throbbing, Adam gets Jacob spit-lubed and ready for an internal examination. Sliding his dick into Jacob's tight hole, Adam commences an intense doggy style pounding. Bracing himself against the wall, Jacob savors every second that Adam's cock is inside him, stretching out his hole and massaging his prostate. Adam lies flat on the exam table and Jacob jumps up to go on a ride. Grinding his hips, Jacob uses his ass to milk Adam's cock while jerking himself off. Jacob's hot, white load gushes from his uncut cock while Adam is still inside him. Dismounting from Adam's cock, Jacob sucks on Adam's balls, watching intently as Adam's cock swells and throbs. With giant spurts, Adam shoots his load onto his chest, and Jacob laps it up, savoring the taste on his tongue. Damn the consequences; it was worth it!
Related Movies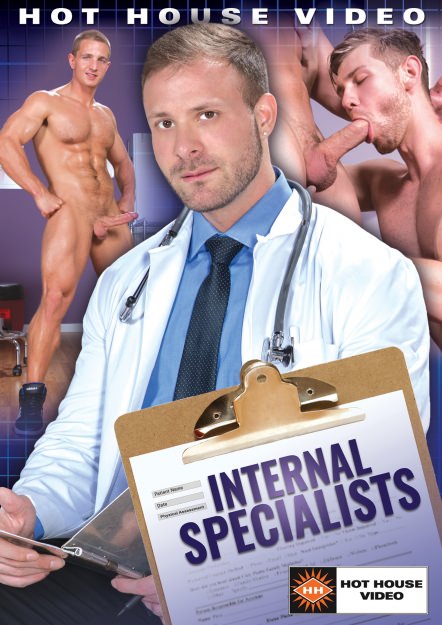 Internal Specialists
: 01:48:51
: 7171
Updated on : 12-29-2016
Categories : Anal Sex, Ass Shot, Big Cock, Buttplay, Cumshot, Hairy, Kissing, Latin Men, Male Masturbation, Muscle Men
Starring : Adam Bryant, Armond Rizzo, Asher Devin, Austin Wolf, Dorian Ferro, Jacob Peterson, JJ Knight, Landon Mycles, Skippy Baxter, Woody Fox
The Doctor is in...inside his patient's ass. These 'Internal Specialists' take their work seriously, and while they're stand up professionals, sometimes they're attractions and urges take over. They know it's wrong, but it feels so right to do everything they can to thoroughly assist their patients and coworkers in taking care of their sexual needs. Nick Foxx and Tony Dimarco deliver medical office fantasies where the patients, doctors and assistants are delving deep inside each other and specializing in getting off with maximum intensity. Woody Fox visits Dr. Dorian Ferro for a physical, but Dr. Ferro is the one who gets deeply probed by Woody's hot cock. The sexual tension between patient Asher Devin and physician's assistant Skippy Baxter grows so immense, neither man can ignore it, so Asher puts Skippy's legs in the air and fucks his brains out! Armond Rizzo needed a new doctor, and his friends all had rave reviews of their 'experience' with Dr. Austin Wolf. After Dr. Wolf administers his cock from the front, from the back, and even upside down, Armond is yet another fully satisfied patient! With a sore back, Landon Mycles needs some special attention, and Dr. JJ Knight knows just the trick to work out his deep aches and pains: an intense pounding with Dr. Knights humongous dick. Medical assistants Adam Bryant and Jacob Peterson are the only ones left in the 'Internal Specialist' office, and they can't wait to fulfill some fantasies of their own. After they strip off their scrubs, Adam delivers a powerful and satisfying fuck to his coworker's eager ass. Visit these 'Internal Specialists' and you'll be in for a medical ejaculation like you've never experienced before.