Internal Specialists, Scene #04
You are watching a preview. Log in or join now to watch unlimited scenes in Full HD 1080P.
Scene Info
Dr. JJ Knight reviews some x-rays with his patient, Landon Mycles, whose back was sore due to muscle tension. Dr. Knight prescribes a massage treatment, which he personally delivers: a convenient excuse to deepen the doctor-patient relationship! With Landon flat on his stomach, Dr. Knight grabs two handfuls of Landon's jockstrapped ass. Parting Landon's furry cheeks, Dr. Knight dives in face first, administering liberal quantities of spit with his tongue. Landon's need for deep, sexual healing clearly requires a specialist's touch; when Dr. Knight takes his dick out, Landon eagerly swallows the monster meat. Dr. Knight's huge cock drips with spit as Landon opens wide and sucks. Returning to Landon's ass, Dr. Knight probes the tight, juicy center with his thumb, then jerks Landon's cock while eating his ass. Teasing Landon's hole with the tip of his cock, Dr. Knight knows it's time to give Landon an internal examination. Landon's ass spreads wide to accommodate the extreme girth of Dr. Knight's rock-hard rod. As Dr. Knight pushes deeper into Landon's ass, Landon's hefty balls swing back and forth. Turning over on his back, Landon throws a leg over Dr. Knight's shoulder. The intensely deep penetration of Dr. Knight's relentless thrusting makes Landon blast a huge load all over his sweaty abs, moaning and gasping uncontrollably. When Dr. Knight blows his load, it arcs through the air in a powerful jet, drenching Landon from his chest to his cock. With Dr. Knight's good loving, Landon's aches and pains are cured for good.
Related Movies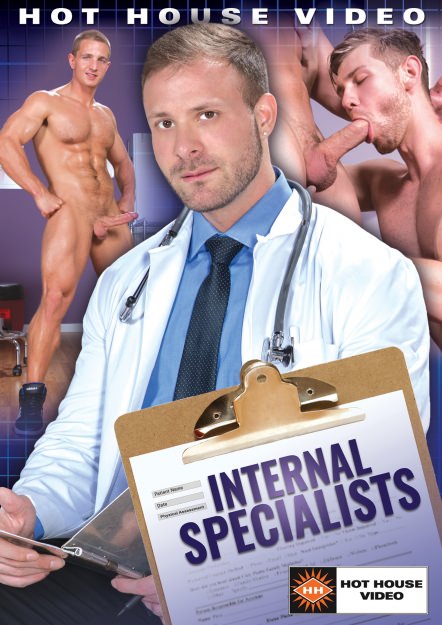 Internal Specialists
: 01:48:51
: 7171
Updated on : 12-29-2016
Categories : Anal Sex, Ass Shot, Big Cock, Buttplay, Cumshot, Hairy, Kissing, Latin Men, Male Masturbation, Muscle Men
Starring : Adam Bryant, Armond Rizzo, Asher Devin, Austin Wolf, Dorian Ferro, Jacob Peterson, JJ Knight, Landon Mycles, Skippy Baxter, Woody Fox
The Doctor is in...inside his patient's ass. These 'Internal Specialists' take their work seriously, and while they're stand up professionals, sometimes they're attractions and urges take over. They know it's wrong, but it feels so right to do everything they can to thoroughly assist their patients and coworkers in taking care of their sexual needs. Nick Foxx and Tony Dimarco deliver medical office fantasies where the patients, doctors and assistants are delving deep inside each other and specializing in getting off with maximum intensity. Woody Fox visits Dr. Dorian Ferro for a physical, but Dr. Ferro is the one who gets deeply probed by Woody's hot cock. The sexual tension between patient Asher Devin and physician's assistant Skippy Baxter grows so immense, neither man can ignore it, so Asher puts Skippy's legs in the air and fucks his brains out! Armond Rizzo needed a new doctor, and his friends all had rave reviews of their 'experience' with Dr. Austin Wolf. After Dr. Wolf administers his cock from the front, from the back, and even upside down, Armond is yet another fully satisfied patient! With a sore back, Landon Mycles needs some special attention, and Dr. JJ Knight knows just the trick to work out his deep aches and pains: an intense pounding with Dr. Knights humongous dick. Medical assistants Adam Bryant and Jacob Peterson are the only ones left in the 'Internal Specialist' office, and they can't wait to fulfill some fantasies of their own. After they strip off their scrubs, Adam delivers a powerful and satisfying fuck to his coworker's eager ass. Visit these 'Internal Specialists' and you'll be in for a medical ejaculation like you've never experienced before.