Internal Specialists, Scene #02
You are watching a preview. Log in or join now to watch unlimited scenes in Full HD 1080P.
Scene Info
Asher Devin arrives for his appointment at the Internal Specialists. While checking him in, physician's assistant Skippy Baxter can't help checking out Asher's cute butt. Skippy leads Asher to the exam room. Realizing he forgot his pen, Skippy leaves Asher alone for a few minutes. While Skippy is out, Asher strips down to his nearly see-through white briefs. When Skippy comes back in, he does a double take when he notices Asher's massive bulge. The examination begins as Skippy notes Asher's weight and listens to his heart. The sexual tension between nurse and patient gets more intense with each passing minute. Taking a chance, Asher grabs Skippy's hand and moves it to his throbbing boner. 'Damn boy, you're packing big!' exclaims Skippy. Throwing caution to the wind, they make out passionately as Asher strips off Skippy's scrubs. Asher's briefs come off, and Skippy goes down to get a taste of Asher's big, hard dick. Trading places, Asher takes a turn swallowing Skippy's thick meat, wrapping his hand around Skippy's shaft, and using his lips to suck on the fat mushroom head. Skippy raises his legs in the air so Asher can work his tongue up into Skippy's eager hole. Apparently, Skippy needs some sexual healing even more than his patient! Turning around, Skippy leans over the examination table and takes Asher's bone doggy style. Asher rams his cock into Skippy HARD, eliciting uncontrollable moans of pleasure. The tension builds until Skippy lets loose with massive spurts of cum, shooting all the way up past his shoulders. Asher grabs his rod and blasts Skippy's cock and balls with thick, white gobs of cum.
Related Movies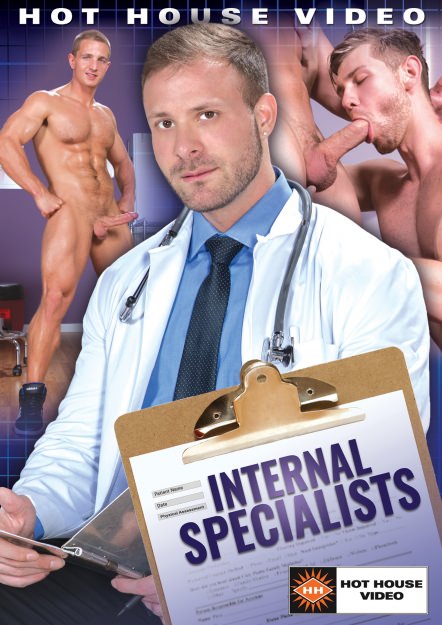 Internal Specialists
: 01:48:51
: 7112
Updated on : 12-29-2016
Categories : Anal Sex, Ass Shot, Big Cock, Buttplay, Cumshot, Hairy, Kissing, Latin Men, Male Masturbation, Muscle Men
Starring : Adam Bryant, Armond Rizzo, Asher Devin, Austin Wolf, Dorian Ferro, Jacob Peterson, JJ Knight, Landon Mycles, Skippy Baxter, Woody Fox
The Doctor is in...inside his patient's ass. These 'Internal Specialists' take their work seriously, and while they're stand up professionals, sometimes they're attractions and urges take over. They know it's wrong, but it feels so right to do everything they can to thoroughly assist their patients and coworkers in taking care of their sexual needs. Nick Foxx and Tony Dimarco deliver medical office fantasies where the patients, doctors and assistants are delving deep inside each other and specializing in getting off with maximum intensity. Woody Fox visits Dr. Dorian Ferro for a physical, but Dr. Ferro is the one who gets deeply probed by Woody's hot cock. The sexual tension between patient Asher Devin and physician's assistant Skippy Baxter grows so immense, neither man can ignore it, so Asher puts Skippy's legs in the air and fucks his brains out! Armond Rizzo needed a new doctor, and his friends all had rave reviews of their 'experience' with Dr. Austin Wolf. After Dr. Wolf administers his cock from the front, from the back, and even upside down, Armond is yet another fully satisfied patient! With a sore back, Landon Mycles needs some special attention, and Dr. JJ Knight knows just the trick to work out his deep aches and pains: an intense pounding with Dr. Knights humongous dick. Medical assistants Adam Bryant and Jacob Peterson are the only ones left in the 'Internal Specialist' office, and they can't wait to fulfill some fantasies of their own. After they strip off their scrubs, Adam delivers a powerful and satisfying fuck to his coworker's eager ass. Visit these 'Internal Specialists' and you'll be in for a medical ejaculation like you've never experienced before.